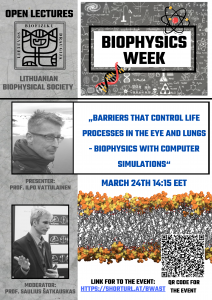 Lithuanian Biophysical Society celebrates
International Biophysics Week (March 21-25)!
This time we are pleased to announce an open online lecture "Barriers that control life processes in the eye and lungs – Biophysics with computer simulations" that will be held by a prolific Finnish biophysicist and a Board member of EBSA (European Biophysical Societies' Association) Prof. Ilpo Vattulainen (University of Helsinki, Finland).
This event will be moderated by the Chair of Lithuanian Biophysical Society Prof. Saulius Šatkauskas. The lecture will be held online (MS Teams) on March 24th 14:15 EET.
Link to the event:  shorturl.at/bwAST
We encourage everyone to participate in this event!
We also recommend checking a multitude of other events all over the world dedicated to the Biophysics Week: https://www.biophysics.org/biophysics-week#/
You can give the questions and in the Lithuanian Biophysical Society Facebook website .