For full poster view press here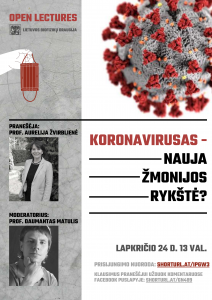 What do we really know about Covid-19? What is true, what is made-up, and what are scientists still debating on? The Lithuanian Society of Biophysicists invites prof. Aurelia Žvirblienė's open remote lecture "Coronavirus – a new scourge of humanity?", Moderated by Vilnius University professor biophysicist Daumantas Matulis. We invite everyone to listen to the lecture (in lithuanian language) on November 24-th 13:00. Due to technical possibilities, the number of places is limited to 300, so we invite you to join the lecture a little earlier.
Link to the event: shorturl.at/ipGW3                             For guidelines press HERE
You can ask questions in advance by commenting on this event on the Lithuanian Biophysical Society Facebook page.
We invite you to participate!